Now that the snow in Alaska has melted and the water has become warmer, fishermen who overwintered changes or built new boats are launching their creations for the upcoming season. They put away the fiberglass rollers and acetone, shut down the welders and paint guns, and get ready to replace the smell of molten metal and chemicals with the smell of salt water.
Twin tuition
Although many in the Bristol Bay gillnet fishery know Mike Fourtner as Cummins' sales representative, he also puts his nets in the bay in June and July each year.
He has been at it long enough that after last year's season it was time to replace the main engine on his own aluminum yarn, Bonnie BEE
In it, he discovered an irony, he says. For eight years, he has been helping others find solutions in their engine-swapping puzzles; now it was time to review it for yourself.
"I'm glad I had to go through the pain and the pain," he says. "There really is no better way to be effective at your job than to put yourself in your clients' place, and for me to go through the last eight months, it just feels like it gives me a very unique perspective on how I must be better for my job with Cummins. "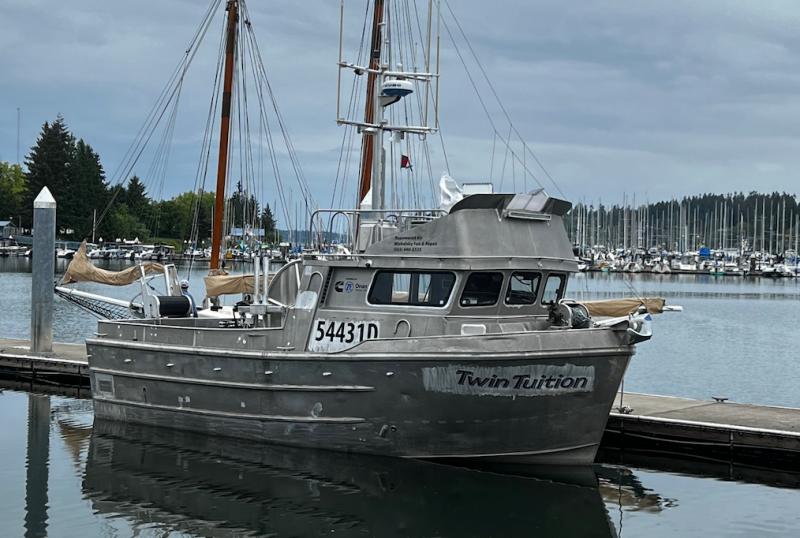 Fourtner, known for countless repowering solutions across Alaska and much of the west coast, could have stopped with just one engine change. Instead, he enhanced the experience by renovating other systems on his 1987 Jumbo Vito, built by Hydraulic Fishing Supply, in Anacortes.
"The cables were taped together and the hydraulics were completely crazy. I said, 'Man, I just want to feel so bad.' "Last September, that was exactly what he did. Fourtner sent the boat south to his store in Adna, Washington, and ripped it from the bow to the stern.
By November, Bonnie BEE had been reduced to a bare hull.
"It was two months in a row with a plasma cutter. You should see the pile of scrap outside my store," he says. "I wanted all the new wires, all the new stainless steel hydraulic wires. I did not want to scrape, did not want to cut any corners, "he says.
In terms of his power, the choice was clear: a Cummins.
"I pulled out a 6068 John Deere with 201 horsepower and went with a Cummins QSM 11, 670-horsepower Cummins. That's three times as much horsepower, so we increased the axle diameter and put on a five-blade propeller."
With the addition of new decks, a cabin, a new galley, new berths, new glass, custom tanks and new deck equipment, Fourtner pretty much built a new boat.
The boat was renamed Twin Tuition after his 8-year-old twins Ella and Emma, ​​who helped with the project and would like to head north to Bristol Bay with him this season.
"They're good little helpers," he says. "They want to come to Bristol Bay. They want to pick fish. So I named the boat Twin Tut after the two, and they want to be on the back deck, twins, and learn to pay for tuition."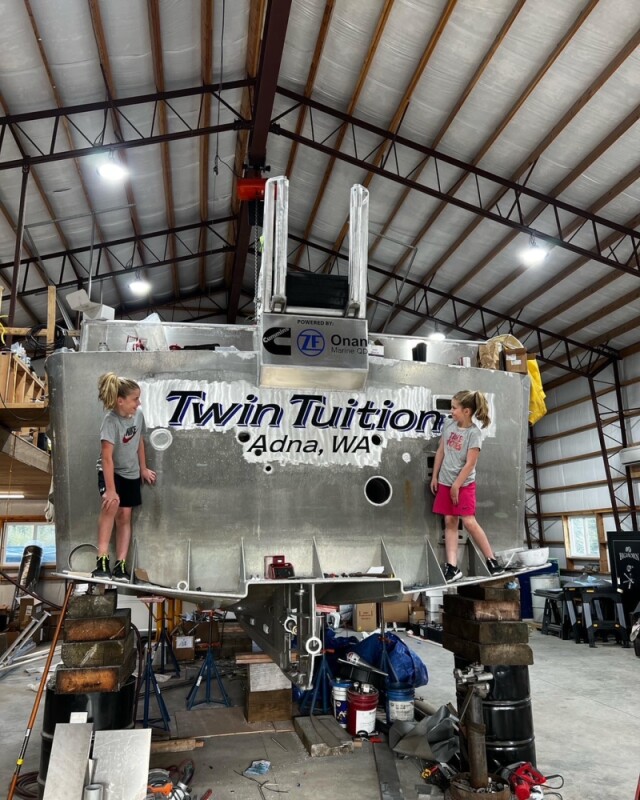 As for his own costs, Fourtner states that he could never have afforded the project if he had not produced the work in his own shop. According to his calculations, he carried out the work for about half the cost he would have had if he had chosen to build a new boat from scratch.
Like many of his clients, Fourtner experienced the overwhelming, unconscious worries of having Twin Tuition ready as the calendar ran toward this year's salmon season.
"There were no family vacations this winter," he says. "Every day was a holiday in my store."
On May 30, he prepared the boat for a run to Vancouver, where he loaded it as a deck cargo aboard a large bid on its way to Bristol Bay.
When he gets there, he drives around the various harvest districts with a top speed of about 18 knots. The original Jumbo Vito plowed through the water, curved heavy and with a speed of only 6 knots, he says.
The refurbished Twin Tuition took on compared to the former Bonnie BEE, but the extra few thousand pounds of weight have been distributed aft so the boat can get on the stairs. That combined with the new 670-horsepower engine should give the boat a new level of performance, Fourtner says.
As for the upcoming season, Fourtner plans to spend extra time drumming business for the Cummins. If you're running around with crossovers and emitting a big cloud of black smoke this summer, you might just meet him with the business card in hand and willing to talk about a massive project ahead.
Enjoy dawn
Brothers Reuben and Clifton Ivanoff had their vessel New Dawn prepared and ready early for what is expected to be a unique salmon season this summer.
"Many guys who finish their preseason work in July will be finished in time for June," says Reuben, who along with brother Clifton has been fishing Alaska waters in their 52-foot Hansen since 2000.
Although they perform most of their boat work in their home port of Kodiak, the brothers laid the family-owned vessel in Seward in May for sandblasting, a new paint and installation of a new anchor winch and a new picking boom.
Additional work included a new davit, a renovated fo'c'sle, new bunks and carpets, a new wheelhouse berth, new attic material and new wheelhouse glass windows to replace the existing Lexan. The Ivanoff family are fans of Rain-ex and look forward to a better view from the top when the windows are wet and they are facing the sun.
"I do not know if the boat has ever looked so good," says Reuben, a few days after they had returned to Kodiak.
While the brothers renewed the boat with a new main engine in 2006, Ivanoff says rebuilding is imminent among future improvements to the boat.
"The work on a steel boat never stops," he says.
He added that others in the Kodiak fleet are completing improvements to their boats earlier than usual in anticipation of record harvests and rumors of record high prices from previous vessels this season. The salmon season opened on June 1st.
In addition to net fishing sockeye and pink salmon, the brothers and their crew New Dawn work with pots for Pacific cod, tenderloin for sea cucumber divers and fish for tanner crabs when there is season in local waters.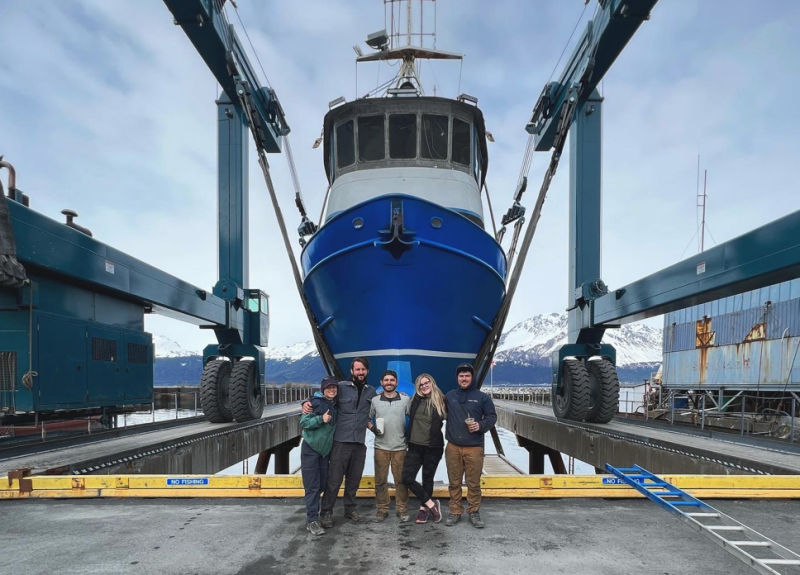 And … not yet named
Randy and Kent Sandvik are no novices in innovation. National Fisherman highlighted them in 2018 for their work in collaboration with Lowell Stambaugh in the manufacture of composite rudders. As it turns out, rudder is not the only thing cooking in Butte, the Alaska store.
Last December, Randy began building what will be the fourth gillnet to roll out of its stores. He has built three in Alaska and one in a store in Washington. Although he says he has borrowed ideas from other builders, he has added lots of personal touches to the shift.
"It's a stand-alone," he says. "It has a different shape and I wanted a slightly different boat."
So far, the latest boat is unnamed, but like other details, Sandvik says they will coincide with the times. 32'x16 'nights are planned to fish Bristol Bay this summer, but Sandvik will make adjustments to the boat in the coming years. Among future additions, he has provided space at the bulwark, amidships on the port side, to manufacture a chute that will serve to pull his net with the bow up in the air.
The boat will fish with mechanical controls this summer, although Sandvik plans to upgrade in the near future.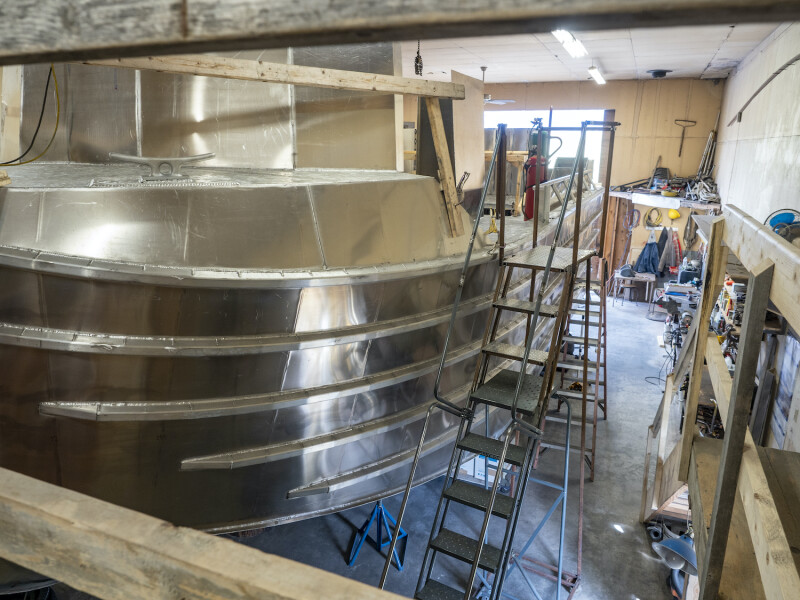 For power, he chose two FTP inline engines, each delivering 530 horsepower, and coupled them to dual 17-inch Hi Jets, manufactured by Hill Innovations, Inc. Sandvik says he chose the motor-jet combination with the hope of a satisfactory center. -range performance. If his calculations work, he says the combination will keep the revs lower on the diesel engines, but allow him to keep up with moderate amounts of fish.
"These jets work at medium pressure," he says. "Fast jets make boats sail very fast, but I'm actually looking for mid-range performance."
Sandvik was asked about fuel economy with the jets.
"I do not know what it will be," he says, "but you make more than 500 horsepower in each engine, and no matter what engine you have, you are going to burn fuel."
On the rear tire, the net will lead through a motor roller and up on a roller manufactured by Maritime Fabrication Inc. From there, the sockeye salmon will gain weight in the hold, which can hold around 20,000 pounds.
The 10-ton cooling system is the very first of three units produced by Marine Refrigeration Solutions. Sandvik will run it hydraulically from its 35-gallon-per-minute system this year, but hopes to upgrade the unit to a diesel drive of about 30 horsepower to run the radiator and also provide about 6 kilowatts of electric power.
"I want enough power to run a welder on board," he says.
Among other improvements to the new boat, Sandvik has built-in an integrated aluminum flip-up partition that extends over the entire deck beam. The divider will separate fish from liner, plugs, wires and ribbons as the net is pulled over the power roll, fish are picked and the net is stacked in the rear deck for resetting.
The concept of "overtaking", as it is known in Bristol Bay, is nothing new, says Sandvik, adding that the early fishing operated with net-pulling deck men, called "tractors" long before the advent of the wheels.
"Just because it's an older way, does not mean it was a bad way," he says of overhauling the network. He hopes the pop-up shaft net will save time clearing a meandering net and getting it back in the water.